((OOC Note: This is a repost of an old blog from years ago))

Time is a strange thing. It is both fleeting and enduring. In the most painful, sour moments, seconds tick by like hours. In the happiest it is gone in the blink of an eye. We have more of it than we know what to do with and yet it runs through our fingers like the water gone no matter how tightly we hold. Time is particularly strange in this city, caught somewhere between night and dawn. Days blur together in a miasma of blue-lit shadows, impossible to tell one apart from the next but for the blinking chronometer in the corner of my vision, counting the minutes. At times it feels my progress is frustratingly slow, yet others I can feel vast gears turning already. I have but scratched the surface of this metropolis and already it is reacting, a ponderous beast having its belly tickled, slow to awake but inexorable once it is.

Kojima will be watching, this much I know. Whether they will be content to merely watch or seek retribution I can not say. Hope for the best, plan for the worst. Once I tapped into those stored accounts it would have flagged my location. The trick is to disguise my goal, like a silk veil hiding a dagger strike. And the best place to hide is in plain sight. The trick is to paint a picture that tells them what they want to know, giving them no reason to probe deeper. Penitent little Maz, living life in exile, having learned her lesson. Giddy with the freedom of a new city, certainly not up to her old tricks again. No reason to look deeper, read between the lines. After the expenditures for security and a domicile, I set up more transactions, running the gamut from nightclubs to shopping to medical services. Painting a picture of the the mundane behind which to hide. Between those legitimate transactions are the shadier ones. False credit transfers to blind accounts, cash withdrawals, siphoning a few credits here and there, redirected and hidden.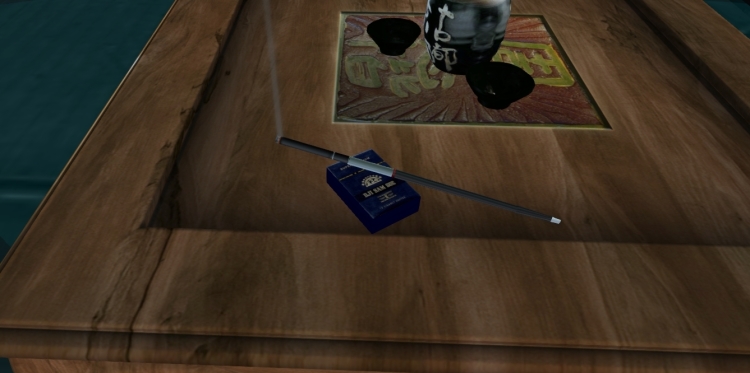 And what does a happy little socialite in exile do? Clubs, clothes, entertainment, frivolous things. Certainly not extensive arrays of surgical gear and cybertech. I paid a visit to a coffee house and art gallery, a place under the shadows of minarets where shisha perfumes the air and masterpieces stare at each other from the walls. Derrick-kun was as my side when we encountered a woman there, Nyusha. Brash and outspoken, she seemed to have a long history with the bushi, enough to distract him from the task at hand. They spoke in vague reference of events past, biker gangs and conflicts. The implication of being former comrades in arms was there but not explicitly stated. Whatever their past may be it incited Derrick-kun deeply - he all but destroyed one of the K9's training bags when we returned, taking out frustrations upon it. Certainly the most emotional I have seen him yet; this emotion must be controlled however, lest it become a threat. And the woman that evoked it.

Rather than press the issue, I gave him the following day off to excise whatever demons were plaguing him. My cybernetic chassis has been in need of routine maintenance for awhile now, things that normally would have been taken care of without a second thought. Things that must be seen to before they develop into more serious issues. The only obvious choice for this is AGIS. As much as this pains me to do, I will not risk my chassis to the questionable hands of some back alley cyberdoc. Once upon a time I regarded AGIS as my greatest spiritual, if not actual rival. Their focus on bio- and genetech, cloning and fabricants is an anathema to me. And yet here I find myself in their blindingly bright, sterile white facility, arguing with a receptionist over which of us knows better exactly what maintenance processes my chassis requires.

It was fortunately interupted by a more knowledgeable AGIS employee, along with another company man. It took me longer that it should have to recognize him - but I never forget a data port. When he excused himself to see to computer equipment nearby, I recognized the back of his neck and neural interface as having been the one I stared into at the noodle shop my first night here, the companion of the enigma. It has been but a few moments and brief exchange of pleasentries at best, but I became positive it was him.

The woman was introduced as Sixteen and was, by all earthly standards quite beauitiful. A little too perfect perhaps; that name and her status at AGIS - evocative of a fabricant to say the least. If so she is certainly one of the more advanced models I have witnessed yet. But I do not know for sure yet, I shall extend the benefit of the doubt. In any case, my maintenance appointment was made and I had a chance to speak to the male. He was the only connection I could see to finding the enigmatic one that had extended an invitation to visit. Between my agitation at bowing to AGIS and eagerness to puruse this lead, I may have made an error. I missed an obvious deflection in reference to the man's reaper-faced acquaintence and when I dared press further, his reaction was most curt and decisive. In my haste I may have closed that bridge.

Part of my little routine includes a stop at a placed called the Blue Ant, but a short walk past 7 Seas. The only source I have found thus far for kreteks; Dji Sam Soe, one of my favorites. As well it is a place to watch the world walk by. The droid bartender there, Antron, a bit more fond than its actual designation. It might not have much to say but at least it is honest, not obfuscating its Purpose behind synthflesh and a sculpted smile.

I met a man there the other night, and again at Reakt0r. Krawo-san. He had far more interesting things to say than the robot. A rare breed for many reasons, certainly not the least his confession of Cybernetic Rejection Syndrome. I admit, such took me by surprise to hear. Though I have studied the condition I have never met nor examined one with it. It is exceedingly rare where I come from, a place where the Type I - III augmentation rate approaches 90% or better. I felt genuine sorrow on his behalf, a rare pang of emotion I did not expect. To never be able to know the glory of Integration, to feel the electron web of Cyberspace glowing in every neuron.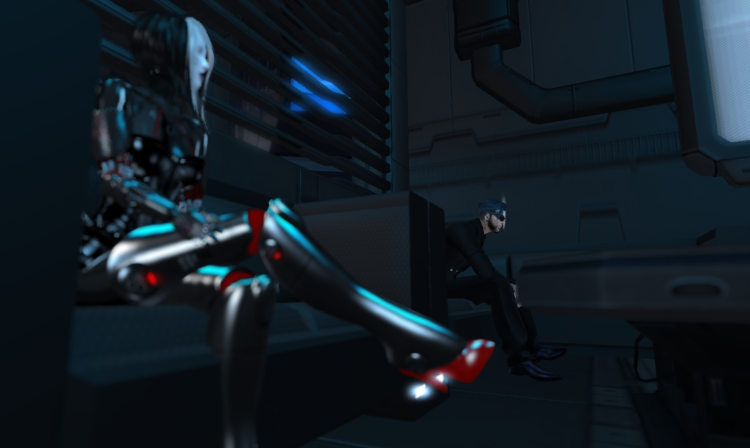 Both times we engaged in a little duel of wits and words. What does it mean to be human, what is the impact of cybertech on the mind and body. What is emotion and intuition. I caught his eyes in an unguarded moment at Reakt0r, free from mirrored shades. As an augmented dancer plied her trade with teflon coated grace, I could observe him watching her undulating synthetic body. He had the look of a man whose own body was saying one thing while his mind was saying another. Her perfectly sculped form was every feminine ideal, the body of a virgin with the mind of a whore. Every man's dream, neh? Yet the patent cybertech of her form seemed to put a distance between them. I wondered, was this the Uncanny Valley? Being confronted by something patently human, yet some how 'off' just enough to inspire suspicion, even revulsion?


It was his eyes that struck me the most. Killer's eyes. I have seen them before. The eyes of rough men standing ready to do violence. Since I had snuck an unguarded moment it was only fair to offer the same. I invited him to look into my eyes. I do not know for sure what he saw there. But I know it will stay with him. Make him question things. Even the stoutest oak needs to have its roots shaken by a hurricane. And so to, I am not immune to it. It makes me call into question... My own prejudices. Against the Created ones. Am I the same to this person as they are to me? Nothing but machine masquerading as human? This requires. Further. Thought.


Hmm.. it is very curious - as I record this log, I am almost certain I can hear movement on the roof above.


User Disconnect Detected
Waiting......................
Log File Closed